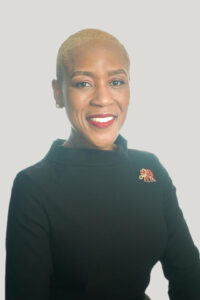 Elisha Michele James Waters (affectionately called Rev. E.) was born in Baltimore, Maryland on December 19, 1979.  She is the eldest of five siblings: Therm Jr., Ijeoma, Arnnette, and Hadassah.  At an early age, Elisha's parents, Therm and Ernestine embarked on rearing her in the fear and admonition of the Lord.   Elisha has an explosive passion for ministry and currently serves as the Executive Pastor at Bethany Baptist Church in Baltimore.  She also works hand in hand with the Women of Prayer, Power, and Purpose, women's ministry, which she helped launch in 2012.  One of her greatest joys is empowering women to grow in their love and faith in Christ.  In addition to working with the women of Bethany, Elisha also endeavors to serve in any capacity which facilitates enhancing the church and making her pastor's job easier.
On January 19, 2014, Rev. E. preached her initial sermon entitled "You Don't Have the Luxury of Falling Apart" from Galatians 6:5-9.  She received her license to preach on that evening, becoming a fifth-generation preacher in her family.  Currently, she works ebulliently with her father, Rev. Dr. Therm James, Sr. who pastors Bethany Baptist Church in Baltimore, Maryland.
Rev. E. attended Morgan State University where she received her undergraduate degree in Pre-Professional Chemistry.  She also holds a Master's in Science Education from Morgan State University.  In preparation for her call to ministry, she completed a two-year Ministerial Training program at New Psalmist Baptist Church, where Bishop Walter S. Thomas Sr. is the pastor. After completing the Ministerial Training program, Elisha earned a Master of Arts in Theological Studies with a concentration in biblical studies from Liberty University, in Lynchburg, Virginia. Elisha works at Roland Park Country School and is the Dean of Students for the Middle School, Director of B.E.S.T. Summer Scholars, and Director of Middle Grades Partnership Growing Girls and Gardens program.
Elisha is the proud wife of Preston S. Waters and together they have four children: Jamaal, Nia, Preston II, and Keziah, and four grandchildren: Jamari, Amiyah, Amirah, and Parker. She is also a proud member of Delta Sigma Theta Sorority, Inc. Her favorite scripture is Galatians 6:9 – "Let us not be weary in doing good, for at the proper time we will reap a harvest if we do not give up."
Elisha's greatest passion is being in the presence of the Lord, building and blessing the kingdom of God.